Question: Where is the Mount of Beatitudes? Where did Jesus speak the Sermon on the Mount? What is the Sermon on the Mount?
Answer: The following quote is from The New Unger's Bible Dictionary. Originally published by Moody Press of Chicago, Illinois. Copyright (c) 1988...
MOUNT OF BEATITUDES. This was the name given to the mountain mentioned in Matthew 5:1, probably the place known as the "Horns of Hattin," Kurun Hattin, near Capernaum, and on the W of the Lake of Galilee. Hattin is the name of the village above which are the two elevations now called "the horns." Its situation is central both to the peasants of the Galilean hills and the fishermen of the Galilean lake, between which it stands, and would therefore be a natural resort both to Jesus and His disciples when they retired from the shores of the sea for solitude, and also to the crowds who assembled from Galilee, from Decapolis, from Jerusalem, from Judea, and from beyond Jordan. None of the other mountains in the neighborhood could answer as well to this description, inasmuch as they are merged into the uniform barrier of hills around the lake; whereas this stands separate, "the mountain" that alone could lay claim to a distinct name, with the exception of Tabor, which is too distant to answer the requirements. The hospice and church of the Italian Franciscan sisters now crown the traditional site adjacent to the Sea of Galilee.
Many of the traditional locations of Biblical events have shrines, some new, some ancient, on their sites. This site is no exception. Like many of them there is no way to know that this is the exact location, though the overall area does meet the general Scriptural requirements.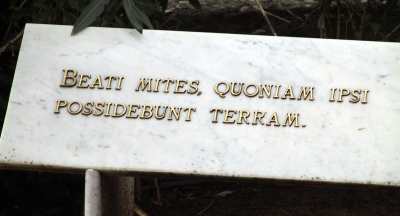 Sign at entrance to the shrine site.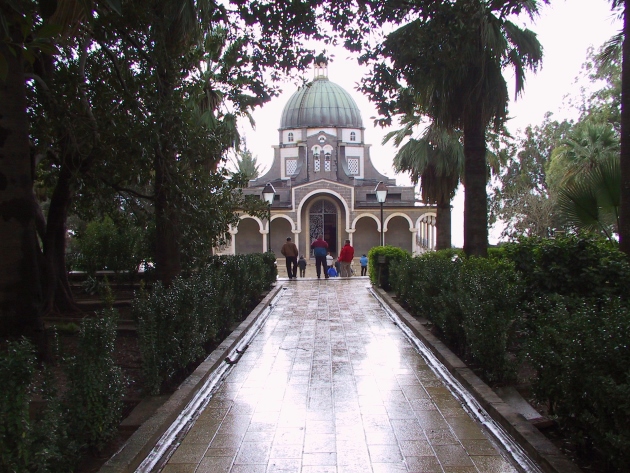 The shrine, looking towards Galilee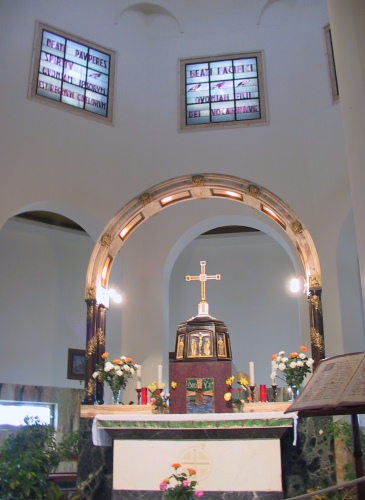 Inside the shrine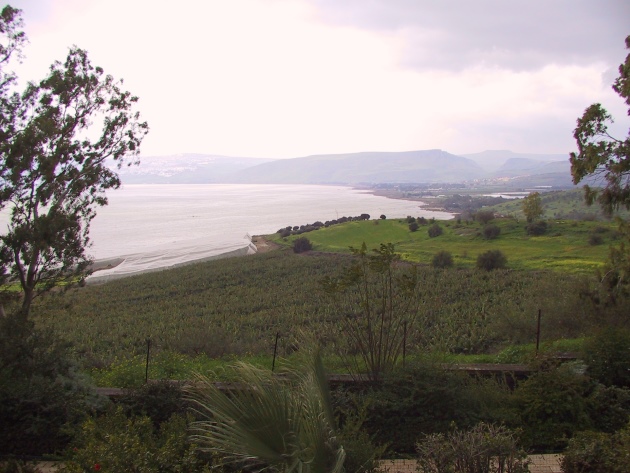 Looking from the shrine down towards the Sea of Galilee. This provides a good idea of
the view and area that Jesus spoke from. Note the modern aspect, namely
the plastic covered agriculture fields towards the lake.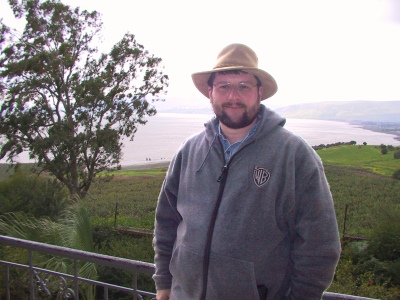 Web-site author and Bible teacher, Brent MacDonald at location in 2003.
---
The Sermon on the Mount
Matthew 5:1-16
Now when he saw the crowds, he went up on a mountainside and sat down. His disciples came to him, 2 and he began to teach them, saying: 3 "Blessed are the poor in spirit, for theirs is the kingdom of heaven. 4 Blessed are those who mourn, for they will be comforted. 5 Blessed are the meek, for they will inherit the earth. 6 Blessed are those who hunger and thirst for righteousness, for they will be filled. 7 Blessed are the merciful, for they will be shown mercy. 8 Blessed are the pure in heart, for they will see God. 9 Blessed are the peacemakers, for they will be called sons of God. 10 Blessed are those who are persecuted because of righteousness, for theirs is the kingdom of heaven. 11 "Blessed are you when people insult you, persecute you and falsely say all kinds of evil against you because of me. 12 Rejoice and be glad, because great is your reward in heaven, for in the same way they persecuted the prophets who were before you. 13 "You are the salt of the earth. But if the salt loses its saltiness, how can it be made salty again? It is no longer good for anything, except to be thrown out and trampled by men. 14 "You are the light of the world. A city on a hill cannot be hidden. 15 Neither do people light a lamp and put it under a bowl. Instead they put it on its stand, and it gives light to everyone in the house. 16 In the same way, let your light shine before men, that they may see your good deeds and praise your Father in heaven. (NIV)