The presence of Roman soldiers would have safeguarded one of the most hated activities in the land, namely the aforementioned tax collectors. Yet, it was from among this despised profession that Jesus chose one of His disciples.
Matthew 9:9-13 As Jesus went on from there, he saw a man named Matthew sitting at the tax collector's booth. "Follow me," he told him, and Matthew got up and followed him. 10 While Jesus was having dinner at Matthew's house, many tax collectors and "sinners" came and ate with him and his disciples. 11 When the Pharisees saw this, they asked his disciples, "Why does your teacher eat with tax collectors and 'sinners'?" 12 On hearing this, Jesus said, "It is not the healthy who need a doctor, but the sick. 13 But go and learn what this means: 'I desire mercy, not sacrifice.' For I have not come to call the righteous, but sinners." (NIV) [See also Mark 2:14, Luke 5:27-32]
It was also at Capernaum that a group of itinerant tax collectors, from Jerusalem, sought payment of the temple tax. The temple tax was an annual "head tax" on all Jewish males, twenty years and older, for the purpose of supporting the temple (... not the tithe, as many erroneously presume). The didrachmas was equivalent to one half shekel of sanctuary currency, the amount necessary for one individual (based on Exodus 30:13-14). This tax was due before the 25th of Adar (equivalent to our February or March). The coin Jesus assured Peter he would find in the fish's mouth was a double didrachmas, which would have been enough for two persons.
Matthew 17:24-27 After Jesus and his disciples arrived in Capernaum, the collectors of the two-drachma tax came to Peter and asked, "Doesn't your teacher pay the temple tax?" 25 "Yes, he does," he replied. When Peter came into the house, Jesus was the first to speak. "What do you think, Simon?" he asked. "From whom do the kings of the earth collect duty and taxes - from their own sons or from others?" 26 "From others," Peter answered. "Then the sons are exempt," Jesus said to him. 27 "But so that we may not offend them, go to the lake and throw out your line. Take the first fish you catch; open its mouth and you will find a four-drachma coin. Take it and give it to them for my tax and yours." (NIV)
Beyond Matthew, the tax collector, it was at the Sea of Galilee near Capernaum that Jesus called the fishermen James, John, Simon and Andrew (Mark 1:16-21, 29). As the primary base of Jesus' ministry Capernaum is actually referred to as Jesus' own town...
Matthew 9:1 Jesus stepped into a boat, crossed over and came to his own town. (NIV) [Compare with Matthew 9:9 and Mark 2:13-14 to establish location]
Note also that Capernaum was now the location of Peter's house. Originally from Bethsaida, and though Peter now followed Jesus wherever He went, his wife and mother-in-law still kept house here.
Matthew 8:5a, 14-15 When Jesus had entered Capernaum... 14 When Jesus came into Peter's house, he saw Peter's mother-in-law lying in bed with a fever. 15 He touched her hand and the fever left her, and she got up and began to wait on him. (NIV)

Peter's house, turned into an ancient church. Now under the "spaceship" church.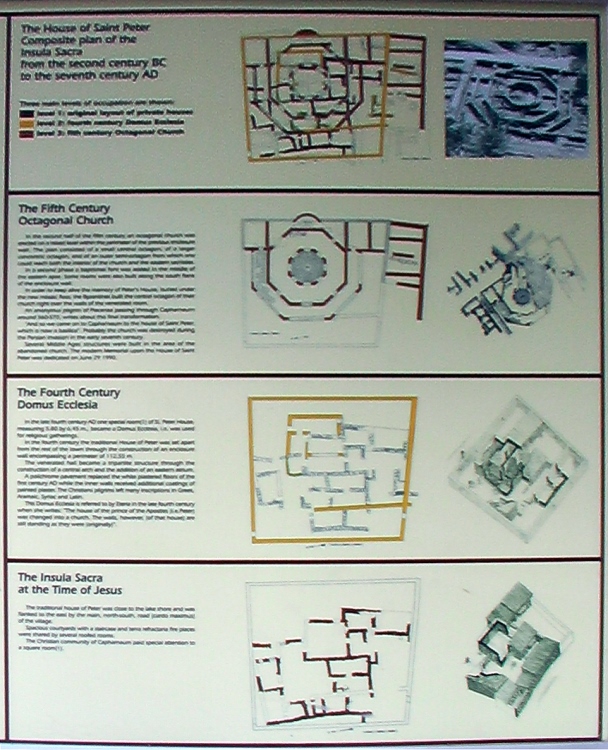 Chart showing how the original first century home was turned into a church.
Even though much of Jesus' ministry was centered around Capernaum, overall the people of that town did not follow Him. Due to their unbelief, Jesus pronounced a curse on this city along with nearby Korazin and Bethsaida.
Matthew 11:23-24 And you, Capernaum, will you be lifted up to the skies? No, you will go down to the depths. If the miracles that were performed in you had been performed in Sodom, it would have remained to this day. 24 But I tell you that it will be more bearable for Sodom on the day of judgment than for you." (NIV)

Luke 10:15 And you, Capernaum, will you be lifted up to the skies? No, you will go down to the depths. (NIV)
As always, this prophecy was fulfilled completely with Capernaum being subsequently destroyed and never re-inhabited.