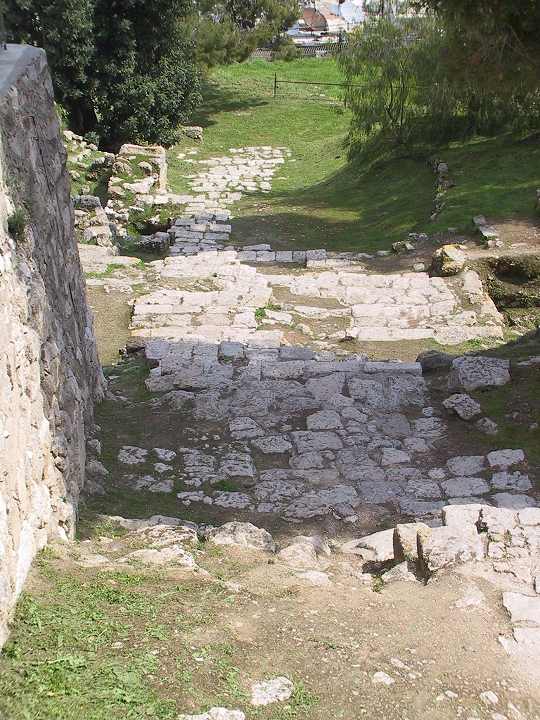 First century road leading up to the area of Caiaphas' Palace.
Caiaphas was a historical figure whose name is forever associated with the crucifixion of Jesus. His full name was Joseph Caiaphus, something that was attested to by first century historian Josephus and also by the inscription on his burial ossuary. Joseph, was a son-in-law of Annas (see John 18:13), who filled the post of high priest circa 18-36 A.D., before being subsequently deposed by a Roman official (specifically Vitellius, see Josephus, Antiquities of the Jews 18.2.2; 18.4.3). Scriptures tell us that he was already holding the office of high priest at the time of John the Baptist's ministry (Luke 3:2).
John 11:47-53 [Following Jesus raising Lazarus from the dead...] Then the chief priests and the Pharisees called a meeting of the Sanhedrin. "What are we accomplishing?" they asked. "Here is this man performing many miraculous signs. 48 If we let him go on like this, everyone will believe in him, and then the Romans will come and take away both our place and our nation." 49 Then one of them, named Caiaphas, who was high priest that year, spoke up, "You know nothing at all! 50 You do not realize that it is better for you that one man die for the people than that the whole nation perish." 51 He did not say this on his own, but as high priest that year he prophesied that Jesus would die for the Jewish nation, 52 and not only for that nation but also for the scattered children of God, to bring them together and make them one. 53 So from that day on they plotted to take his life. (NIV)

Matthew 26:3-4 Then the chief priests and the elders of the people assembled in the palace of the high priest, whose name was Caiaphas, 4 and they plotted to arrest Jesus in some sly way and kill him. (NIV)

Matthew 26:49-75 Going at once to Jesus, Judas said, "Greetings, Rabbi!" and kissed him. 50 Jesus replied, "Friend, do what you came for." Then the men stepped forward, seized Jesus and arrested him. 51 With that, one of Jesus' companions reached for his sword, drew it out and struck the servant of the high priest, cutting off his ear. 52 "Put your sword back in its place," Jesus said to him, "for all who draw the sword will die by the sword. 53 Do you think I cannot call on my Father, and he will at once put at my disposal more than twelve legions of angels? 54 But how then would the Scriptures be fulfilled that say it must happen in this way?" 55 At that time Jesus said to the crowd, "Am I leading a rebellion, that you have come out with swords and clubs to capture me? Every day I sat in the temple courts teaching, and you did not arrest me. 56 But this has all taken place that the writings of the prophets might be fulfilled." Then all the disciples deserted him and fled. 57 Those who had arrested Jesus took him to Caiaphas , the high priest, where the teachers of the law and the elders had assembled. 58 But Peter followed him at a distance, right up to the courtyard of the high priest. He entered and sat down with the guards to see the outcome. 59 The chief priests and the whole Sanhedrin were looking for false evidence against Jesus so that they could put him to death. 60 But they did not find any, though many false witnesses came forward. Finally two came forward 61 and declared, "This fellow said, 'I am able to destroy the temple of God and rebuild it in three days.'" 62 Then the high priest stood up and said to Jesus, "Are you not going to answer? What is this testimony that these men are bringing against you?" 63 But Jesus remained silent. The high priest said to him, "I charge you under oath by the living God: Tell us if you are the Christ, the Son of God." 64 "Yes, it is as you say," Jesus replied. "But I say to all of you: In the future you will see the Son of Man sitting at the right hand of the Mighty One and coming on the clouds of heaven." 65 Then the high priest tore his clothes and said, "He has spoken blasphemy! Why do we need any more witnesses? Look, now you have heard the blasphemy. 66 What do you think?" "He is worthy of death," they answered. 67 Then they spit in his face and struck him with their fists. Others slapped him 68 and said, "Prophesy to us, Christ. Who hit you?" 69 Now Peter was sitting out in the courtyard, and a servant girl came to him. "You also were with Jesus of Galilee," she said. 70 But he denied it before them all. "I don't know what you're talking about," he said. 71 Then he went out to the gateway, where another girl saw him and said to the people there, "This fellow was with Jesus of Nazareth." 72 He denied it again, with an oath: "I don't know the man!" 73 After a little while, those standing there went up to Peter and said, "Surely you are one of them, for your accent gives you away." 74 Then he began to call down curses on himself and he swore to them, "I don't know the man!" Immediately a rooster crowed. 75 Then Peter remembered the word Jesus had spoken: "Before the rooster crows, you will disown me three times." And he went outside and wept bitterly. (NIV) [Also John 18:12-28]
A final reference to Caiaphas, in Scriptures, is found in Acts 4:6; this later instance in regards to persecution of the apostles following Jesus' resurrection and ascension.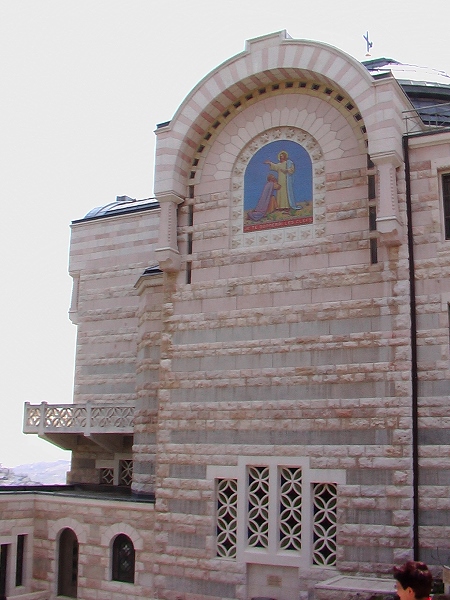 Church of Saint Peter in Gallicantu, over probable site of Caiaphas' palace - 2005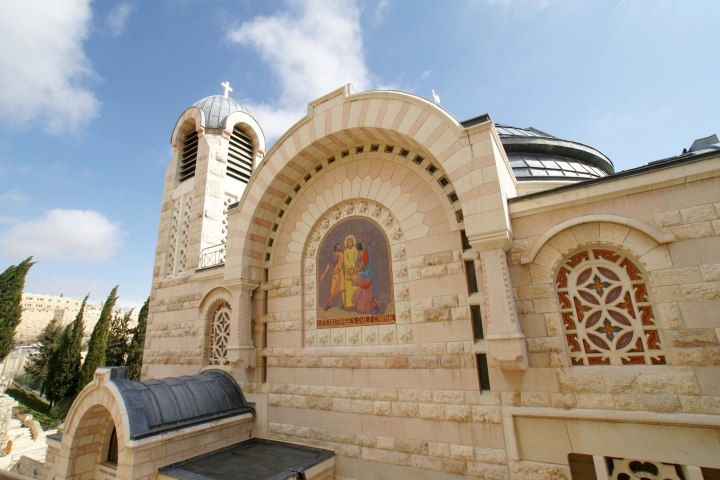 Another view of the church - 2009
The most probable location of Caiaphus' Palace in Jerusalem is on the eastern slope of Mount Zion, something reflected in the city model formerly at the Holy Land Hotel. Excavation under the Church of Saint Peter in Gallicantu (Roman Catholic, Assumptionist Order) has revealed ruins which date to the Herodian period and up to 70 A.D. This location was, at that time, within the walls of Jerusalem. Theodosius (5th century A.D.) refers to the site as the Church of St. Peter, remains of which have been found at this site (Byzantine). Unfortunately, no absolute evidence (i.e. inscriptions) has been found that would certify the site beyond all doubt. Josephus, without further specifics, noted that the High Priest's residence was in the upper city where the ruling class and wealthy lived. Some hold that this aristocratic sector was only further north, yet that too is not certain (perhaps in the Armenian property near the Zion Gate).
View from near Caiaphas' Palace, looking towards the "field of blood" (at lower left) and the valley of Hinnom.
Click here or on photo above for a more detailed panorama (use browser back button to return)
Caiaphas' own ossuary and family tomb was found in the field of blood area
This official residence would have been an extensive complex, built by Annas (who continued to maintain influence over the high priesthood, arranging for several family members to become such). The complex would have had a gate from the street, leading to a courtyard, which would have been surrounded by several connected buildings including residences for Annas and Caiaphas. It would not have been uncommon for informal meetings of the Sanhedrin to take place at this location, though this would not excuse the fact that such a trial was taking place after dark.
Under the Church of Saint Peter in Gallicantu (meaning "cock-crowing" in Latin), a dungeon type chamber, hewn out of bedrock, testifies to the type of power the high priest wielded. A single entrance, or portal, in the floor was the means by which a prisoner was confined in the dark cells below.