The Arnon River is mentioned a number of times in the Old Testament, primarily as a boundary marker or geographic point of reference. This river flows into the Dead Sea on its eastern side, in the modern country of Jordan. Much of its water flow has now been restrained and diverted, resulting in minimal flow into the Dead Sea (see photo above).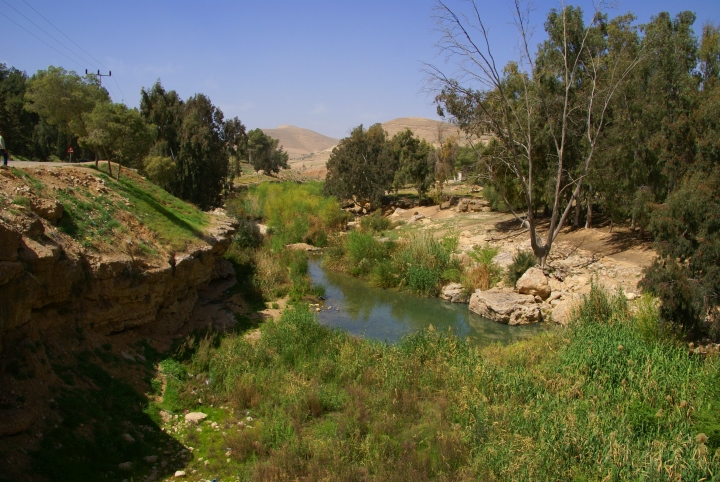 The Arnon at one of its wider spots further east near the Kings Highway
In ancient times, prior to the Exodus, it was the boundary between the Amorites to its north and the Moabites to its south. Israel subsequently took the northern territory at the end of the Exodus, though they did not always maintain later control over all this area.
Numbers 21:13-15 They [the Israelites] set out from there and camped alongside the Arnon, which is in the desert extending into Amorite territory. The Arnon is the border of Moab, between Moab and the Amorites. 14 That is why the Book of the Wars of the Lord says: ". . . Waheb in Suphah and the ravines, the Arnon 15 and the slopes of the ravines that lead to the site of Ar and lie along the border of Moab." (NIV) [More of Numbers 21 is included below, including the account of taking the territory]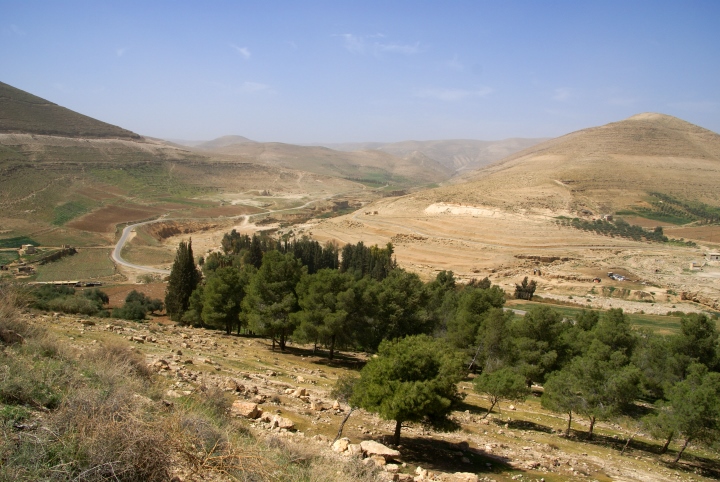 The Arnon at one of its wider spots further east near the Kings Highway, a couple miles from the photo above.
The upper plateau of Moab is drained by two primary streams and their lesser tributaries. Wadi Wala (alt. Seil Hedan) to the north and Seil el-Mojib to the south both flow through amazing gorges about 2 miles (3 km) wide at the top and about 125 feet (38 meters) wide at the bottom. Though varying in depth, portions are around 2300 feet (701 meters) deep. These two gorges come together approximately 13 miles (21 km) east of the Dead Sea and are known as Wadi Mojib. The valley narrows dramatically at the Dead Sea end, which is located at about the midway point of the Sea north to south.

The depth of the gorge is one of the reasons that it became such a distinctive and recognizable boundary. Its general impassability to the west also caused the primary north-south roadway, the Kings Highway, to be located farther inland from the Dead Sea versus following the Jordan Valley.
Numbers 20:17 Please let us pass through your country. We will not go through any field or vineyard, or drink water from any well. We will travel along the king's highway and not turn to the right or to the left until we have passed through your territory." (NIV)
Wadi Mojib is sometimes referred to as the grand canyon of the Middle East. For someone who had never seen the actual ravines or gorges, the wording of the King James Version could seriously be misunderstood. For reference we have repeated the NIV scripture passage quoted above, this time from the KJV. Take note of the term "stream of the brooks":
Numbers 21:14-15 [NOTE KJV "Brooks"] Wherefore it is said in the book of the wars of the Lord, What he did in the Red sea, and in the brooks of Arnon, 15 And at the stream of the brooks that goeth down to the dwelling of Ar, and lieth upon the border of Moab. (KJV)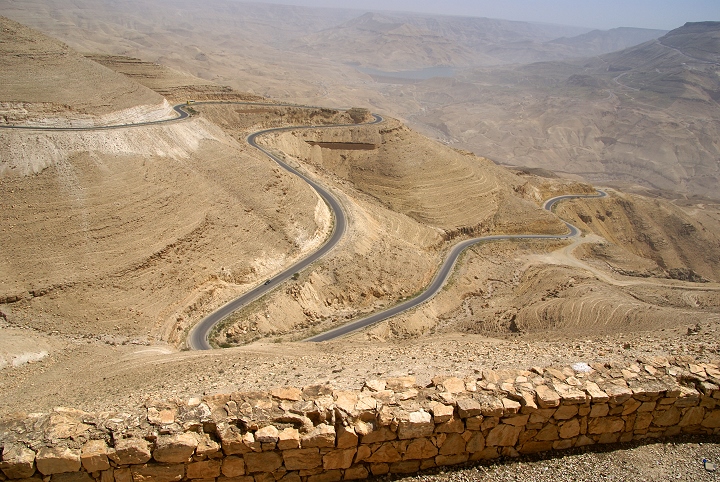 This modern road helps show how steep the sides of the Arnon valley are. Note the truck approaching the lower hair-pin turn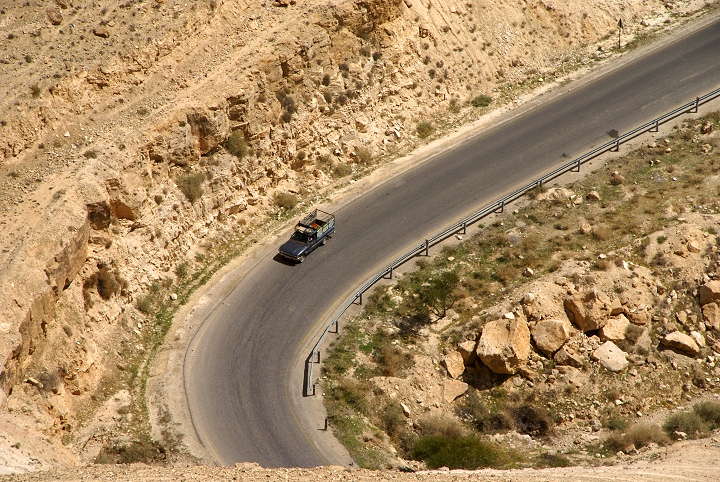 This is a close-up of the truck in the photo above this one