The following article is condensed from our live seminar on the subject of CCM. This short format was created for the purpose of engaging often widely diverse Christians into considering a biblical defense of what they believe [rather than tradition, or opinion]. As always we welcome comments and opinions, but most of all Biblical defenses! God Bless as you seek to find His perfect will.
— Brent MacDonald

Music Discernment
Fact: It's important to understand Christian music because we're instructed to be using it regularly...
Ephesians 5:19 "speaking to one another in psalms and hymns and spiritual songs, singing and making melody in your heart to the Lord"

Colossians 3:16 "Let the word of Christ dwell in you richly in all wisdom, teaching and admonishing one another in psalms and hymns and spiritual songs, singing with grace in your hearts to the Lord."
Goals & Limitations of this study.
We can't examine all of CCM in the time we have [or in the confines of only this short article!].

We need to establish a biblical criteria for examining all music.

We want to allow you to ask questions and share your thoughts about CCM. [Email us with them!]
What is CCM?
Contemporary is dictionary defined as something "belonging to the same age; living or occurring at the same time" (F&W dictionary. pg. 137, vol. 1). So in a broad sense, Contemporary Christian Music is any Christian Music written or produced in this time era.
Most critics of CCM tend to equate the "Contemporary" part of this label to only styles that are new to these most recent generations like POP, Rock, & Rap. Although these account for much of what is being sold today, you can find virtually every style from the past including hymns, classical, acappela, plain song (chant), southern gospel, folk and more on current CCM labels.
As for being Contemporary "Christian" music, the word "Christian" has traditionally (historically) implied music for and by Christians.
Does music affect you?
Clearly yes — music that is soothing, slower, quieter tends to induce the same type of responses in the listener. On the other hand, music that is fast paced, upbeat, and loud physiologically (or bodily) affects the listener in those ways; to the point that even their heart-beat has been clinically shown to be accelerated.
One query that often arises from this is the question of whether or not it is right or wrong to be excited by the stimulus in the music. Another way to ask this question -- "Is it wrong Biblically to be excited, upbeat, fast-paced and loud?"
The answer, of course, is no! These emotions are part of how God has made us and clearly there is a time and place for the entire spectrum of these responses.
Psalms 47:1 Oh, clap your hands, all you peoples! Shout to God with the voice of triumph!

Psalms 150:1-6 Praise the LORD! Praise God in His sanctuary; praise Him in His mighty firmament! Praise Him for His mighty acts; praise Him according to His excellent greatness! Praise Him with the sound of the trumpet; praise Him with the lute and harp! Praise Him with the timbrel and dance; praise Him with stringed instruments and flutes! Praise Him with loud cymbals; praise Him with clashing cymbals! Let everything that has breath praise the LORD. Praise the LORD!
One more thought regarding bodily influences. While a number of writers have written about how music can "change metabolism, affect muscular energy, raise or lower blood pressure," etc., and have even claimed this to be addictive due to it's pleasurable effects, they have not really made a case against its usage. If seeking out things that are pleasurable is addictive behavior, most of the planet are addicts. We all tend to return to things that give us pleasure. It's only if this pleasure is biblically wrong that this becomes sin (see Hebrews 11:25, Galatians 5:13). A British study released in 2000 showed that eating curry produces physiological changes similar to taking drug stimulants, prompting at least one news service to title their article, "Addicted to Curry?" (Reuters, Oct 25, 2000). The caffeine in coffee would be guilty of the same offense. If everything that produces bodily reaction and subsequently pleasure is wrong, don't just throw out the music, toss the curry and coffee with it... and likely a lot of other good things as well.
Okay, still another thought about bodily influences. Others cite studies that show music with a pronounced rhythm, or excessive volume, can kill plants — "if played long enough, the plants actually died." While it is true that extreme volumes can harm us (i.e. our hearing), the conclusions of these studies are seriously flawed. While many biased researchers quickly claim that the effects on plants can be carried to humans, they do so with no evidence — "Presumably, the same effect [on humans] can result in the negative sense, from bad music." This is bad science. Wonder why the plant may have died? With a speaker directed right at the plant combined with a greater volume, the sound waves effectively act as a continual breeze. Even a tree growing in the wild subjected to strong and continual coastal breezes will grow stunted. How much more effect would this have on a delicate plant. The classical music that is almost always use in contrast is always played at a lower decibel level and would not have the same effect.
Two primary classifications of Christian Music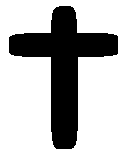 We can use the symbol of the cross to help remember them.

The horizontal bar can be used to represent music whose primary purpose is to express truth's horizontally to other people. Needless to say, these truth need to be Biblical Christian truths to be "Christian" Music.

The vertical bar, likewise, represents music that is vertical -- it's primary purpose is directly up and down, between you and God. This music includes that which worships God, is a prayer to God, and some that echoes God's message to us. Vertical music often tends to be quieter and softer, but not always. Perhaps this best reflects Psalms 46:10 which tells us to "Be still, and know that I am God; I will be exalted among the nations, I will be exalted in the earth!"
Many songs include elements of both horizontal and vertical within them.
Can (and should) Christians use things that
are first developed by the world?
Talking about styles of music currently available today is one of the fastest ways to have a disagreement with many Christians.
At the heart of the argument behind many who would say that most modern styles are wrong – and have no place with Christian music – is the issue of whether or not it is right to use a style first developed (or at least popularized) by a non-Christian for non-Christian purposes (often proclaiming a worldly message).
To understand this better, let's look at a few (perhaps absurd) non-music parallels...
Let's say: Toasters were invented by a non-Christian, some people have died from the misuse of toasters (by sticking forks in them, etc.). So can we as Christians use a toaster and use it for something good? Of course!
Another. Let's say: Cars were invented by a non-Christian, powered by an explosive, and are one of the biggest killers of people in North America today? But can Christians use them and for good purposes? Once again, of course!
BUT, some would say, we're talking about entertainment here... So let's use an entertainment example.
Let's say: Baseball (or Basketball, or Hockey) was created by a non-Christian. They have become some of the largest, most greedy enterprises today, but is it okay for Christians to play ball (or hockey) as an activity? Careful now... they could be pleasurable. The bottom line is, that minus the greed [i.e. sin or misuse], it's fine to play these games.
What gets most people the most bothered about music – and the reason it is often judged by a different criteria – is the widespread, public, abuse of secular music in its message and influence, especially with young people.
This is not a new occurrence. A hundred years ago, the same arguments existed over the use of pianos in churches. (For that matter some churches today still won't use one). Why? Because pianos were first used as bar room instruments. Yet today, the piano, second only to the organ, is probably the most used instrument in the church for musical worship.
Some have tried to say that all music with a drum beat is wrong because it (multiple choice, chose any or all of the following)...
Uses a pagan voodoo drum beat

Is based upon music taken from voodoo drum beats

Uses drums which are/were voodoo instruments.
Whether or not any of these are true, these arguments rise and fall on the same question of whether or not the instrument, or style, can be used for good once it's been used for evil. [Another way to say this... Is the medium the problem or only the message? Both the instrument and the style of music can be considered part of the medium, unless one can objectively – by Scriptures – prove that one is inherently evil itself. Misuse, or prior use, of a medium cannot be the factor that makes an entire medium evil. If this was so, every medium once used in a corrupt way could never be redeemed or used for a good purpose ever again. People holding to this view, to be consistent, would have to never watch movies or television, because the medium was created first for a secular purpose.]
Let's look at the Bible on this...
1 Corinthians 10:23-30 All things are lawful for me, but not all things are helpful; all things are lawful for me, but not all things edify. (24) Let no one seek his own, but each one the other's well-being. (25) Eat whatever is sold in the meat market, asking no questions for conscience' sake; (26) for "the earth is the Lord's, and all its fullness." (27) If any of those who do not believe invites you to dinner, and you desire to go, eat whatever is set before you, asking no question for conscience' sake. (28) But if anyone says to you, "This was offered to idols," do not eat it for the sake of the one who told you, and for conscience' sake; for "the earth is the Lord's, and all its fullness." (29) "Conscience," I say, not your own, but that of the other. For why is my liberty judged by another man's conscience? (30) But if I partake with thanks, why am I evil spoken of for the food over which I give thanks?
(The context of this is: Paul talking about eating meats offered to idols – yet we have freedom but should not use it to offend others. See verse 32 following the above passage)
The bottom line: All instruments and most styles of music can be used to the glory of God. This said "most" styles because other Biblical criteria should also apply in discerning what's good and not.
The only restriction on our Christian freedom is to not use anything to sin or as an excuse to sin.
Galatians 5:13 You, my brothers, were called to be free. But do not use your freedom to indulge the sinful nature; rather, serve one another in love.
Cultural Norms
Most evangelized nations in the world historically took existing music and styles and recreated them for worship after their conversion.
Yet, many are quick to judge the music of another culture by the standard of their own. (i.e. Is it okay for Chinese believers to use Chinese music or African music to be used by African cultures, etc. Is only western church music okay?)
As for styles of music... Blues style spirituals, southern gospel, country, and bluegrass are just a few styles that are culturally based and widely accepted in given regions or groups within North America. An individual who has always listened to that style of music can worship God just as effectively, if not more so, than with other styles not normally employed.
Nothing says you have to like all the styles that exist, even among differing cultures, yet we can all appreciate and understand the diversity and effectiveness of them in their respective settings.
What culture do you think bagpipes would be effective in?

What culture do you think rap music would be effective in?
Criteria for evaluating Christian Music
The Philippians 4:8 test...
Finally, brethren, whatever things are true, whatever things are noble, whatever things are just, whatever things are pure, whatever things are lovely, whatever things are of good report, if there is any virtue and if there is anything praiseworthy-- think about these things.
Galatians 5:22-23 test...
Does the artist and message display the fruit of the Spirit... But the fruit of the Spirit is love, joy, peace, patience, kindness, goodness, faithfulness, gentleness, and self-control. Against such there is no law. (2 Peter 1:5-8 again references "self-control")
Can you hear the message?
Again, remember that some who are used of a particular style may find it much easier to follow than one who is not used to it.
1 Corinthians 14:8-9 "For if the trumpet makes an uncertain sound, who will prepare himself for battle? So likewise you, unless you utter by the tongue words easy to understand, how will it be known what is spoken? For you will be speaking into the air."
Is the style of music inherently against God's revealed character and nature?
If the music is intentionally chaotic, you need to question whether it could be glorifying to the God of Order revealed to us in scriptures.
Colossians 2:5 For though I am absent in the flesh, yet I am with you in spirit, rejoicing to see your good order and the steadfastness of your faith in Christ. (Also Exodus & Leviticus re temple ordinances etc.)