Panium was transferred, by the Romans, to the control of Herod the Great in 20 B.C., who subsequently built a temple there to Caesar Augustus. (Yes, this is the same Herod who professed to be Jewish and paid to rebuild the temple in Jerusalem). Following Herod's death in 4 B.C., his son Philip assumed control of this region. It was he that later renamed the town to Caesarea Philippi, in honor of (Caesar) Tiberius and himself.
Shortly before the transfiguration, Jesus and the disciples went north to the region of Caesarea Philippi. The Bible does not say that Jesus actually went into the town, but it does not exclude it either. Certainly there would have been a number of smaller villages in the surrounding countryside. Jesus frequently used parables, or word pictures, to illustrate his message. For this reason, I find it quite likely that the following event took place within sight of Caesarea Philippi itself...
Matthew 16:13-23 When Jesus came to the region of Caesarea Philippi, he asked his disciples, "Who do people say the Son of Man is?" 14 They replied, "Some say John the Baptist; others say Elijah; and still others, Jeremiah or one of the prophets." 15 "But what about you?" he asked. "Who do you say I am?" 16 Simon Peter answered, "You are the Christ, the Son of the living God." 17 Jesus replied, "Blessed are you, Simon son of Jonah, for this was not revealed to you by man, but by my Father in heaven. 18 And I tell you that you are Peter, and on this rock I will build my church, and the gates of Hades will not overcome it. 19 I will give you the keys of the kingdom of heaven; whatever you bind on earth will be bound in heaven, and whatever you loose on earth will be loosed in heaven." 20 Then he warned his disciples not to tell anyone that he was the Christ. 21 From that time on Jesus began to explain to his disciples that he must go to Jerusalem and suffer many things at the hands of the elders, chief priests and teachers of the law, and that he must be killed and on the third day be raised to life. 22 Peter took him aside and began to rebuke him. "Never, Lord!" he said. "This shall never happen to you!" 23 Jesus turned and said to Peter, "Get behind me, Satan! You are a stumbling block to me; you do not have in mind the things of God, but the things of men." NIV [also Mark 8:27-33]
The grotto of Pan and the rock face of the mountain would have made imposing visuals as Jesus declared Himself the Rock on which the church would be built and that the gates of Hell would never prevail against it. (Gates of Hell: think of a Grotto into which a sacrifice would be thrown, which would then be pulled down by the current, into the earth, not to rise again). Clearly these visuals would have driven home Jesus' claim of authority and power.
In the years following Jesus' resurrection, a descendant of Herod the Great tried to change the name of the town once again. Herod Agrippa II renamed the city Neronias in honor of Emperor Nero. With Nero's ignoble death by suicide, this name was quickly abandoned, not for the previous Caesarea Philippi but for its' earlier name, Paneas. This Herod Agrippa, who had a large palace at Caesarea Philippi, was the one who Paul appeared before at Caesarea Maritima.
Acts 25:13 A few days later King [Herod] Agrippa [II] and Bernice arrived at Caesarea to pay their respects to Festus. (NIV)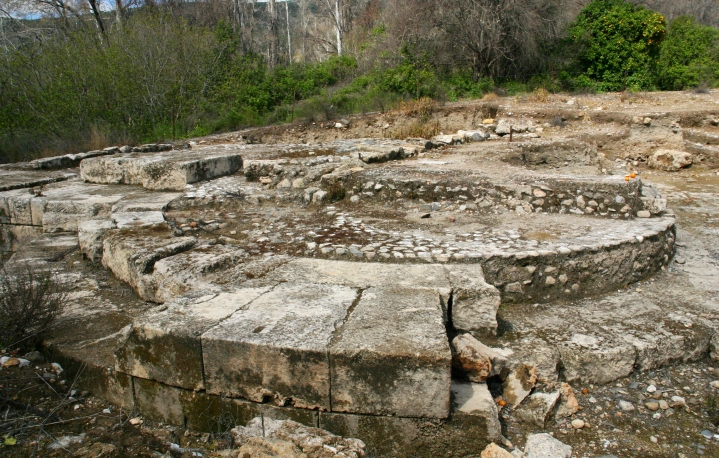 Ruins of the Herod Agrippa II's palace
Click on the photo above, or here, for an artist's rendering of the gate area
During the first Jewish revolt (beginning 66 A.D.), the Roman General (and soon to be Emperor) Vespasian camped his army at Paneas. Following the war, his son Titus (and later to be Emperor) held gladiatorial tournaments in the town, slaughtering many Jewish prisoners as entertainment.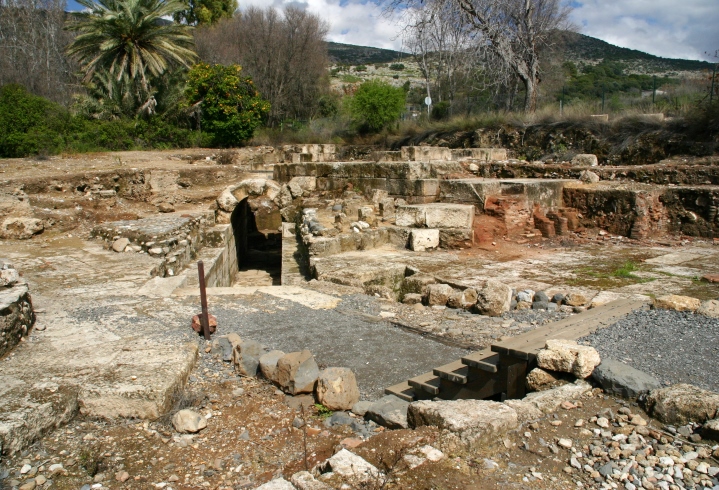 This view is to the right of the circular structure in the previous photo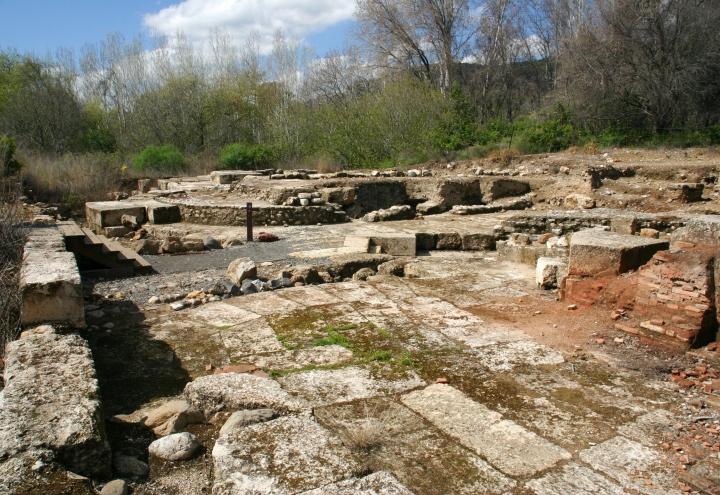 Looking back toward the circular structure
Click on the photo above, or here, for an artist's rendering of the palace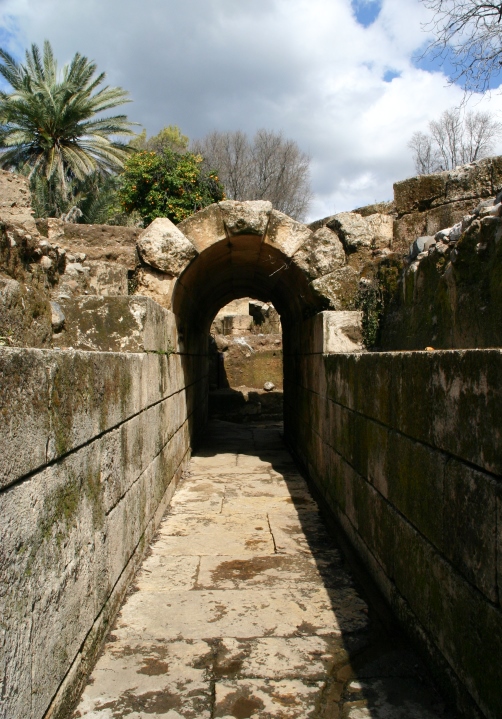 A corridor in the palace