Paul took the message of Jesus Christ first of all to those who had a better starting place, namely they already acknowledged that there as only one true God. To these Jews and God-fearing Gentiles, the message of Christ could be seen as a fulfillment of the Scriptures and Law they already knew. But once a week was not enough for Paul. Beyond the weekly Sabbath meetings in the synagogue, he took the message to public, where they were, namely at the ancient equivalent of our malls or city center - the Agora (or marketplace).
Acts 17:18 A group of Epicurean and Stoic philosophers began to dispute with him. Some of them asked, "What is this babbler trying to say?" Others remarked, "He seems to be advocating foreign gods." They said this because Paul was preaching the good news about Jesus and the resurrection.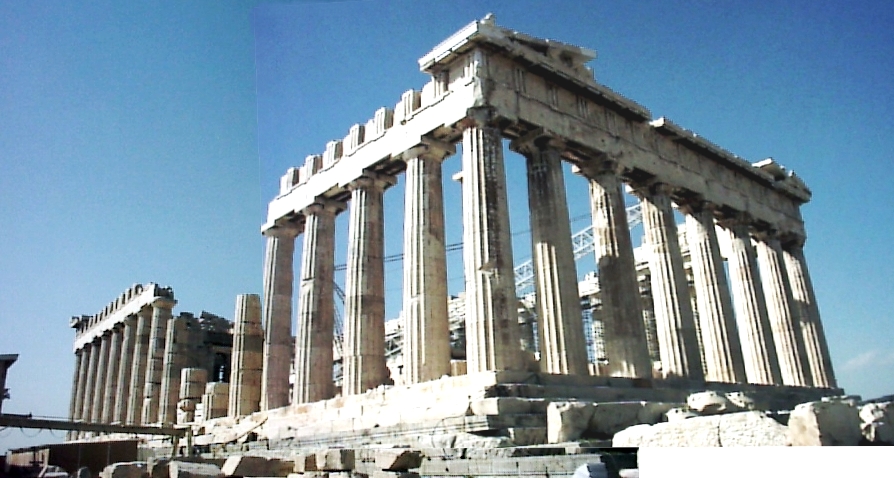 Composite photo showing another view of the Parthenon - 1999
Ancient Athens was all about its gods and religion in general. People could debate philosophy and follow after different schools of thought. This was a place where many ancient philosophical schools had deep roots. While it was quite common for people to revere one, or a few, of the Athenian gods over others; Paul's message would have been foreign to them primarily because he was holding that Jesus was the only way to the Father (John 14:6). Though any of the common folk could debate whatever they wished in the market place, official inquiry into religion took place at the Areopagus (alt. Mars Hill in KJV). It was here that people and ideas could be given an official hearing before the leaders of the people. In fact, this was the court of law, where trails were held. *
Acts 17:19-22 Then they took him and brought him to a meeting of the Areopagus, where they said to him, "May we know what this new teaching is that you are presenting? 20 You are bringing some strange ideas to our ears, and we want to know what they mean." 21 (All the Athenians and the foreigners who lived there spent their time doing nothing but talking about and listening to the latest ideas.) 22 Paul then stood up in the meeting of the Areopagus and said: "Men of Athens! I see that in every way you are very religious.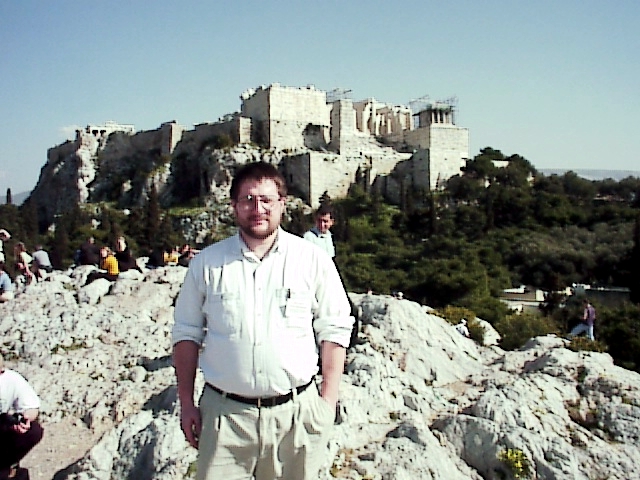 Author, Brent MacDonald, on Mars Hill with the Acropolis in the background
(This and other photos of that year were the highest resolution digital available back in 1999)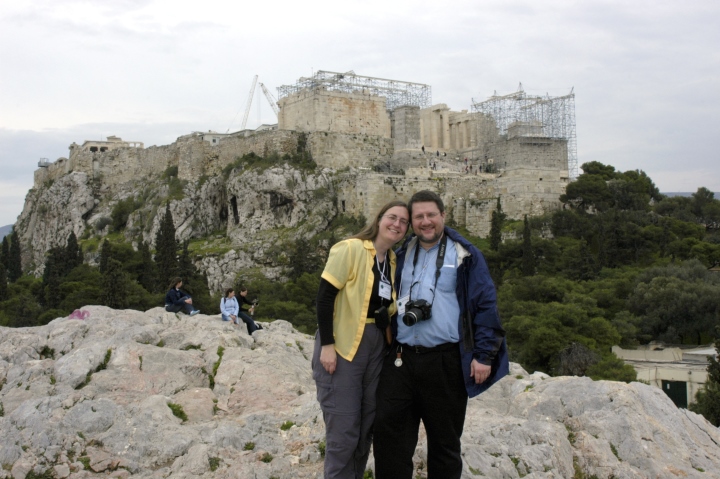 Author, Brent MacDonald with wife Angie, on Mars Hill with the Acropolis in the background - 2007

With a backdrop of impressive temples behind him at the Acropolis **, a simple of wave of Paul's hand would have very aptly punctuated his statement concerning their religiosity. But Paul continues on, making reference to another extravagant example known to all throughout the city - namely altars that had been randomly built to try and placate some unknown, yet professedly upset, deity.
Acts 17:23 For as I walked around and looked carefully at your objects of worship, I even found an altar with this inscription: TO AN UNKNOWN GOD. Now what you worship as something unknown I am going to proclaim to you.
History records, that in previous years, a plague had been sweeping through the city, prompting multitudes to make offerings to all the known gods. When no deliverance was forthcoming a multitude of sacrificial animals were let loose into the city, believing that this irate god would motivate them to go to whatever place a sacrifice was necessary. When, predictably, the spooked animals scattered, an altar was erected at every place they stopped and subsequent sacrifice was offered. Talk about superstition! And what an opportunity for Paul to explain that there is only one true self-sufficient God who is sovereign over all men.
Acts 17:24-33 "The God who made the world and everything in it is the Lord of heaven and earth and does not live in temples built by hands. 25 And he is not served by human hands, as if he needed anything, because he himself gives all men life and breath and everything else. 26 From one man he made every nation of men, that they should inhabit the whole earth; and he determined the times set for them and the exact places where they should live. 27 God did this so that men would seek him and perhaps reach out for him and find him, though he is not far from each one of us. 28 'For in him we live and move and have our being.' As some of your own poets have said, 'We are his offspring.' 29 "Therefore since we are God's offspring, we should not think that the divine being is like gold or silver or stone - an image made by man's design and skill. 30 In the past God overlooked such ignorance, but now he commands all people everywhere to repent. 31 For he has set a day when he will judge the world with justice by the man he has appointed. He has given proof of this to all men by raising him from the dead." 32 When they heard about the resurrection of the dead, some of them sneered, but others said, "We want to hear you again on this subject." 33 At that, Paul left the Council.
The response to Paul's message was not overwhelmingly positive. Many hearers treated the message as merely an oddity or as another competing philosophy. Yet, even in this pagan bastion God saved some and those first listed converts were the beginning of the local church which would impact this entire nation in the years which followed.
Acts 17:34 A few men became followers of Paul and believed. Among them was Dionysius, a member of the Areopagus, also a woman named Damaris, and a number of others. (NIV)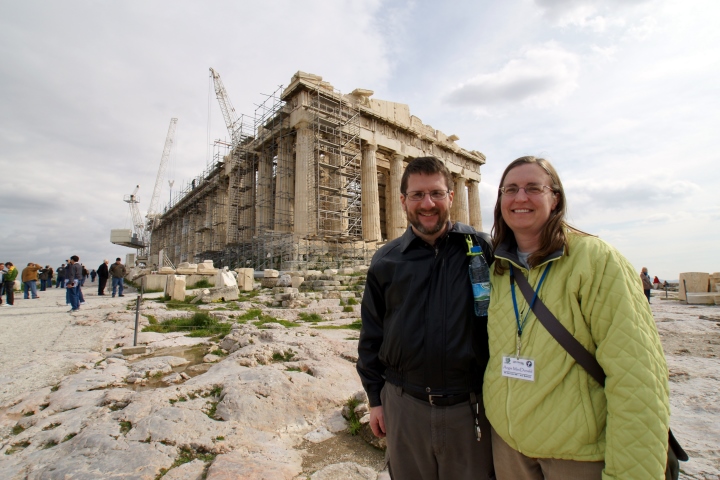 Author, Brent MacDonald with wife Angie, on the Acroplois with the Parthenon in the background - 2009