Nazareth
Hometown of Mary, Joseph and Jesus

View of the modern city of Nazareth taken from above the city.
Composite photo. Click here or on photo for larger image.
Nazareth is a city of lower Galilee, almost half way between the southern shore of Galilee (16 miles/26 km) and the Mediterranean (19 miles/31 km). Located in the hill area north of the plain of Esdraelon (Jezreel Valley), on a plateau about 1200 feet (350 meters) above sea level, the rise above Nazareth climbs almost 400 feet further providing an excellent panorama of the area. Another nearby landmark, Mt. Tabor, is 5 miles (9 km) to the east. (Use link on Mt. Tabor to see a panorama from Nazareth looking toward Mt. Tabor).
Each reference to Nazareth in Scriptures consistently refer to it as a city (Greek "Polis", i.e. Matthew 2:23; Luke 2:4) and never as a village, which presupposes that it must have had a reasonable size. Yet, a lack of reference to the location in extra-biblical literature from Old Testament, Inter-Testament, and New Testament times, imply that it was considered an insignificant place. As such it was an irrelevant city, distant from major trade routes, looked down upon by many throughout Israel.
John 1:45-46 Philip found Nathanael and told him, "We have found the one Moses wrote about in the Law, and about whom the prophets also wrote - Jesus of Nazareth, the son of Joseph." 46 "Nazareth! Can anything good come from there?" Nathanael asked. "Come and see," said Philip. (NIV)
The most significant person to ever live was born to woman from this insignificant place - namely Jesus Christ! Most of the events leading to Jesus' birth centered on this place...
Luke 1:26-39 In the sixth month, God sent the angel Gabriel to Nazareth, a town in Galilee, 27 to a virgin pledged to be married to a man named Joseph, a descendant of David. The virgin's name was Mary. 28 The angel went to her and said, "Greetings, you who are highly favored! The Lord is with you." 29 Mary was greatly troubled at his words and wondered what kind of greeting this might be. 30 But the angel said to her, "Do not be afraid, Mary, you have found favor with God. 31 You will be with child and give birth to a son, and you are to give him the name Jesus. 32 He will be great and will be called the Son of the Most High. The Lord God will give him the throne of his father David, 33 and he will reign over the house of Jacob forever; his kingdom will never end." 34 "How will this be," Mary asked the angel, "since I am a virgin?" 35 The angel answered, "The Holy Spirit will come upon you, and the power of the Most High will overshadow you. So the holy one to be born will be called the Son of God. 36 Even Elizabeth your relative is going to have a child in her old age, and she who was said to be barren is in her sixth month. 37 For nothing is impossible with God." 38 "I am the Lord's servant," Mary answered. "May it be to me as you have said." Then the angel left her. (NIV)
Luke 1:39-40, 56 At that time Mary got ready and hurried to a town in the hill country of Judea, 40 where she entered Zechariah's home and greeted Elizabeth. ... 56 Mary stayed with Elizabeth for about three months and then returned home. (NIV)
Matthew 1:18-21 This is how the birth of Jesus Christ came about: His mother Mary was pledged to be married to Joseph, but before they came together, she was found to be with child through the Holy Spirit. 19 Because Joseph her husband was a righteous man and did not want to expose her to public disgrace, he had in mind to divorce her quietly. 20 But after he had considered this, an angel of the Lord appeared to him in a dream and said, "Joseph son of David, do not be afraid to take Mary home as your wife, because what is conceived in her is from the Holy Spirit. 21 She will give birth to a son, and you are to give him the name Jesus, because he will save his people from their sins." (NIV)
Luke 2:4-5 So Joseph also went up from the town of Nazareth in Galilee to Judea, to Bethlehem the town of David, because he belonged to the house and line of David. 5 He went there to register with Mary, who was pledged to be married to him and was expecting a child. (NIV)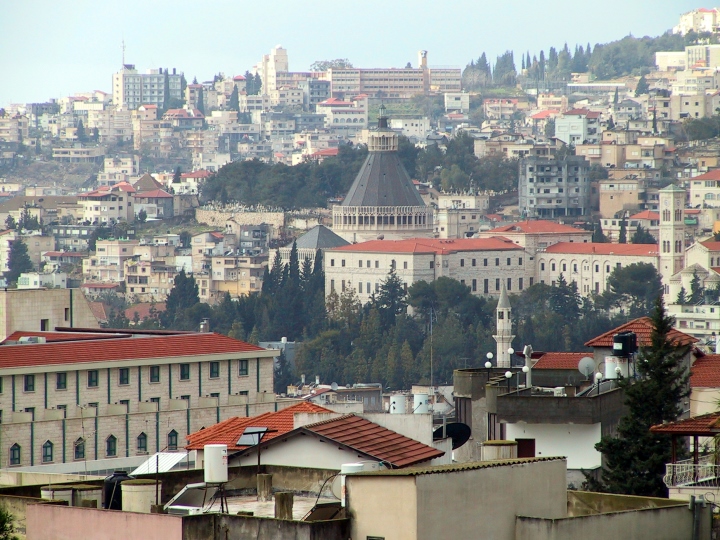 A closer view of the heart of Nazareth (slightly right of center in top photo)
Large dome belongs to the Basilica of the Annunciation (see below)
Following Jesus' birth in Bethlehem and their sojourn in Egypt (Matthew 2:13-15), Mary, Joseph and Jesus returned to Nazareth where Jesus grew to manhood.
Matthew 2:19-23a After Herod died, an angel of the Lord appeared in a dream to Joseph in Egypt 20 and said, "Get up, take the child and his mother and go to the land of Israel, for those who were trying to take the child's life are dead." 21 So he got up, took the child and his mother and went to the land of Israel. 22 But when he heard that Archelaus was reigning in Judea in place of his father Herod, he was afraid to go there. Having been warned in a dream, he withdrew to the district of Galilee, 23 and he went and lived in a town called Nazareth. (NIV)
Nazareth remained Jesus' home before subsequently making Capernaum his home-base during his brief years of ministry. Significantly, the people of Nazareth directly rejected Jesus early in his ministry.
Luke 4:16-30 He went to Nazareth, where he had been brought up, and on the Sabbath day he went into the synagogue, as was his custom. And he stood up to read. 17 The scroll of the prophet Isaiah was handed to him. Unrolling it, he found the place where it is written: 18 "The Spirit of the Lord is on me, because he has anointed me to preach good news to the poor. He has sent me to proclaim freedom for the prisoners and recovery of sight for the blind, to release the oppressed, 19 to proclaim the year of the Lord's favor." 20 Then he rolled up the scroll, gave it back to the attendant and sat down. The eyes of everyone in the synagogue were fastened on him, 21 and he began by saying to them, "Today this scripture is fulfilled in your hearing." 22 All spoke well of him and were amazed at the gracious words that came from his lips. "Isn't this Joseph's son?" they asked. 23 Jesus said to them, "Surely you will quote this proverb to me: 'Physician, heal yourself! Do here in your hometown what we have heard that you did in Capernaum.'" 24 "I tell you the truth," he continued, "no prophet is accepted in his hometown. 25 I assure you that there were many widows in Israel in Elijah's time, when the sky was shut for three and a half years and there was a severe famine throughout the land. 26 Yet Elijah was not sent to any of them, but to a widow in Zarephath in the region of Sidon. 27 And there were many in Israel with leprosy in the time of Elisha the prophet, yet not one of them was cleansed - only Naaman the Syrian." 28 All the people in the synagogue were furious when they heard this. 29 They got up, drove him out of the town, and took him to the brow of the hill on which the town was built, in order to throw him down the cliff. 30 But he walked right through the crowd and went on his way. (NIV)
Even though Jesus no longer lived at Nazareth, he was forever identified with this place, commonly being called Jesus of Nazareth.
Mark 1:23-24 Just then a man in their synagogue who was possessed by an evil spirit cried out, 24 "What do you want with us, Jesus of Nazareth? Have you come to destroy us? I know who you are - the Holy One of God!" (NIV)

Mark 10:46-47 Then they came to Jericho. As Jesus and his disciples, together with a large crowd, were leaving the city, a blind man, Bartimaeus (that is, the Son of Timaeus), was sitting by the roadside begging. 47 When he heard that it was Jesus of Nazareth, he began to shout, "Jesus, Son of David, have mercy on me!" (NIV)

John 18:3-9 So Judas came to the grove, guiding a detachment of soldiers and some officials from the chief priests and Pharisees. They were carrying torches, lanterns and weapons. 4 Jesus, knowing all that was going to happen to him, went out and asked them, "Who is it you want?" 5 "Jesus of Nazareth," they replied. "I am he," Jesus said. (And Judas the traitor was standing there with them.) 6 When Jesus said, "I am he," they drew back and fell to the ground. 7 Again he asked them, "Who is it you want?" And they said, "Jesus of Nazareth." 8 "I told you that I am he," Jesus answered. "If you are looking for me, then let these men go." 9 This happened so that the words he had spoken would be fulfilled: "I have not lost one of those you gave me." (NIV)

John 19:19 Pilate had a notice prepared and fastened to the cross. It read: JESUS OF NAZARETH, THE KING OF THE JEWS. (NIV)
Years later, when Paul was being tried for his faith in Christ, Christians were likewise identified with Nazareth.
Acts 24:5-6 "We have found this man [Paul] to be a troublemaker, stirring up riots among the Jews all over the world. He is a ringleader of the Nazarene sect 6 and even tried to desecrate the temple; so we seized him. (NIV) [Compare Matthew 2:23]
Legends concerning Mary led to many sites being commemorated in Nazareth and to its becoming a destination for pilgrims. Traditions aside, some of the sites are historical, but perhaps not in the way reflected by their founding legends.
Current sites, with some merit, include:
The Church (Basilica) of the Annunciation - professed to be the largest Christian church building in the Middles East. Roman Catholic tradition holds this to be the site where the angel Gabriel told Mary she would give birth to Jesus - Mary's house. Some of the history of this church:
Mid 4th Century A.D. - Early church and altar in the grotto believed to be Mary's house


Circa 337 A.D. - Church of the Annunciation commissioned by the Emperor Constantine, due to efforts of his mother, St. Helena.

Circa 470 A.D. - Church of the Annunciation completed

Circa 570 A.D. - A pilgrim records that the "house of Mary" was a basilica

Circa 638 A.D. - Moslem destroy church.

Circa 1109 A.D. - Crusaders build a new and larger church

Circa 1187 A.D. - Crusaders defeated at Horns of Hittim, priests butchered here.

Circa 1263 A.D. - Church destroyed by Muslims

1620 A.D. - Franciscans purchase the ruins and re-occupy the church

1730 A.D. - Church rebuild

1877 A.D. - Church enlarged

1955 - 1969 A.D. - Church demolished and rebuilt.
Archaeological excavations on the grounds of the church have revealed remnants of earlier churches, plus ruins of Roman era homes, cisterns, grain storage, and relics. Even items dating back to Canaanite times have been found. There is little question that the church grounds encompass a significant portion of early Nazareth.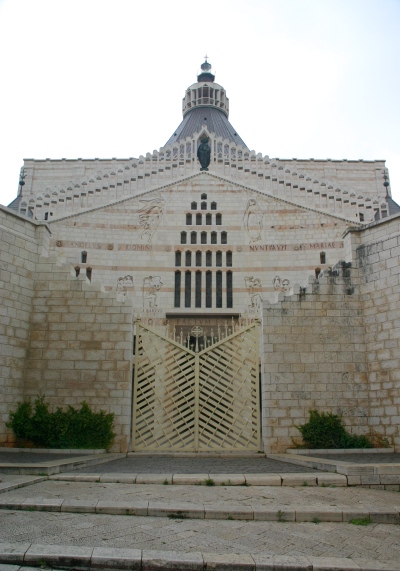 The Church of the Annunciation from outside the gate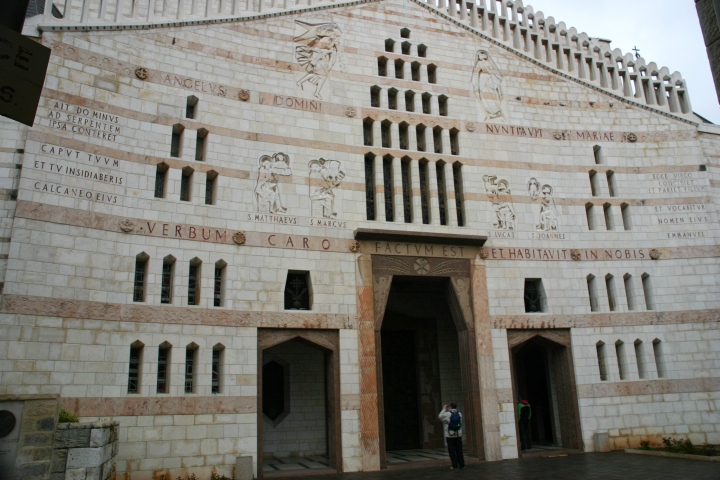 The Church of the Annunciation inside the gate
Latin on third stripe up translates as "The Word became flesh and dwelt among us"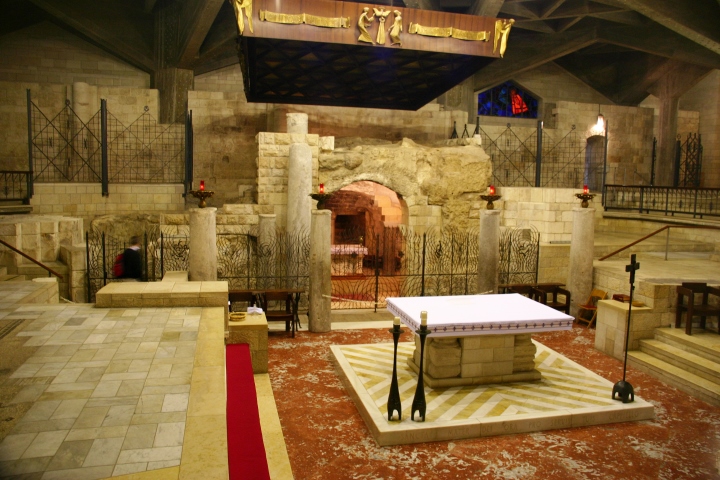 Ruins incorporated into the lower level of the Church of the Annunciation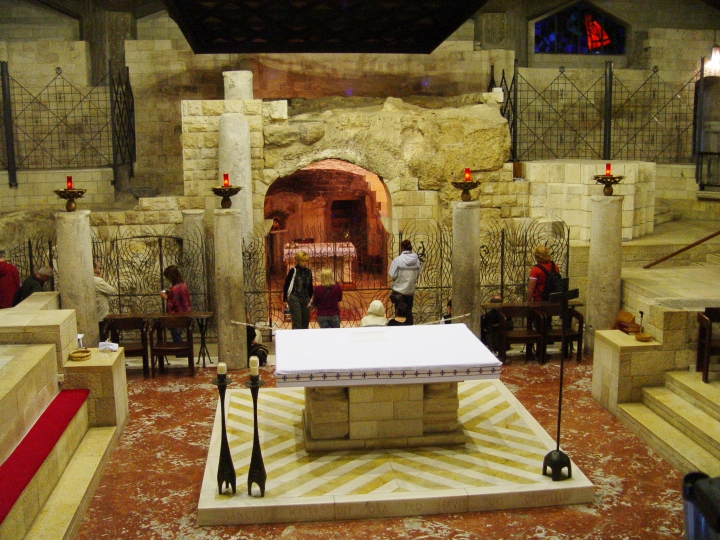 The altar inside the "cave" is supposed to be in the house of Mary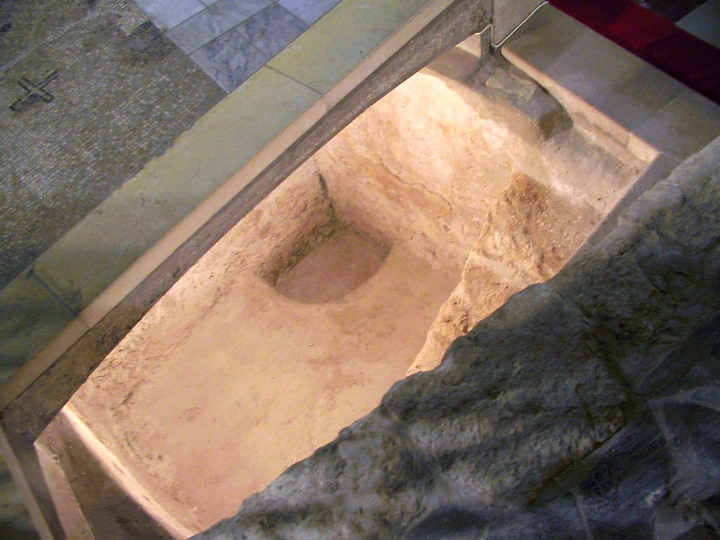 Roman era mikveh or early baptismal font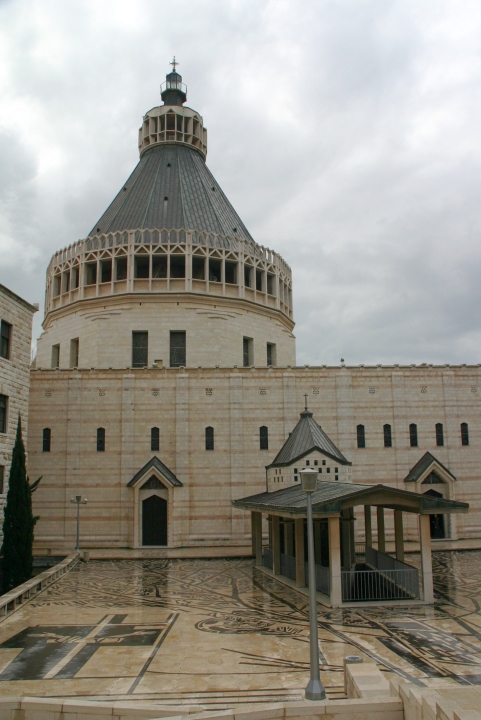 Upper level and dome at the Church of the Annunciation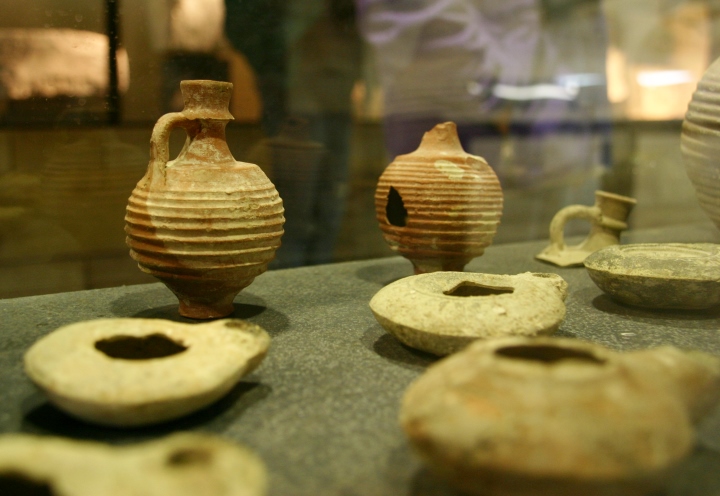 Roman period artifacts found on the grounds of the Church of the Annunciation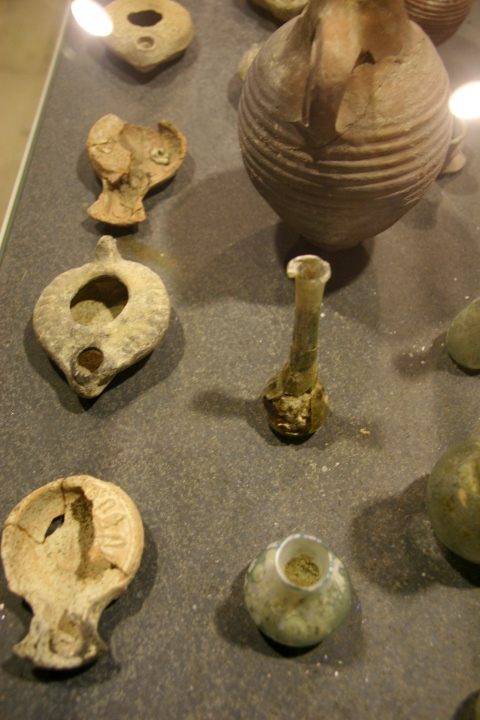 Oil lamps and more. Tall, thin, glass bottle is a perfume bottle.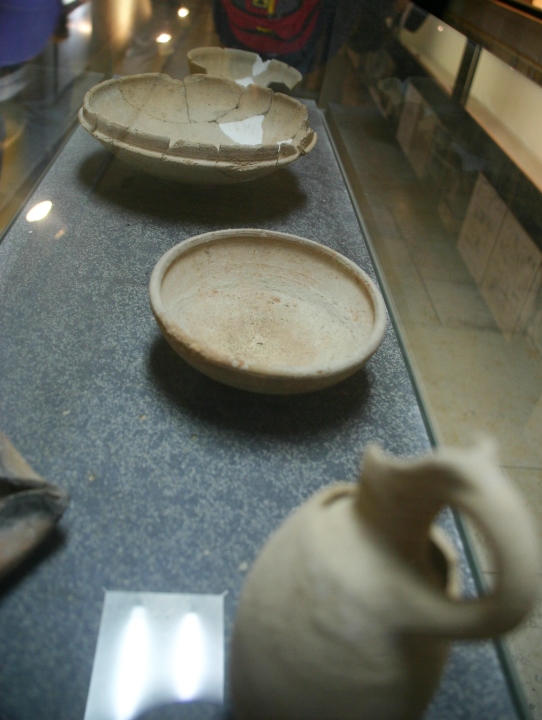 Eating dishes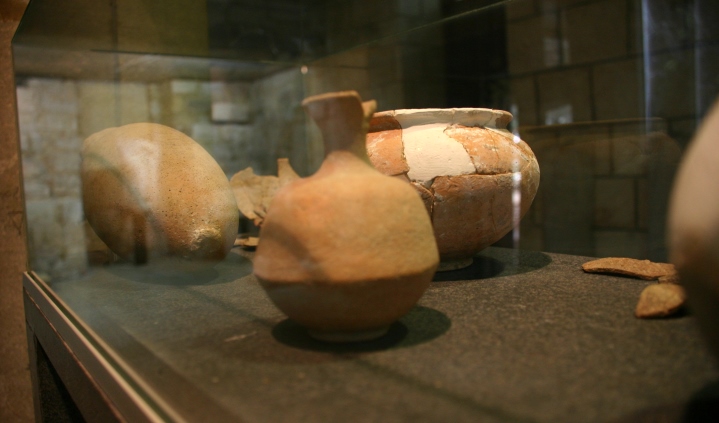 Jugs and bowls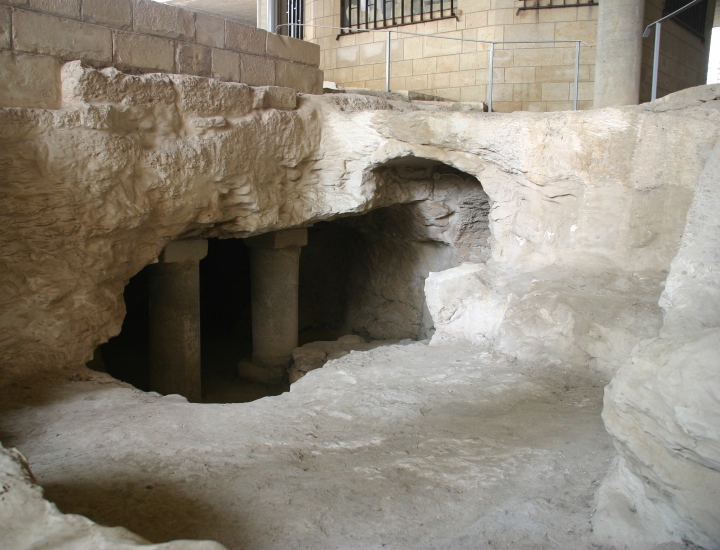 First century cave style home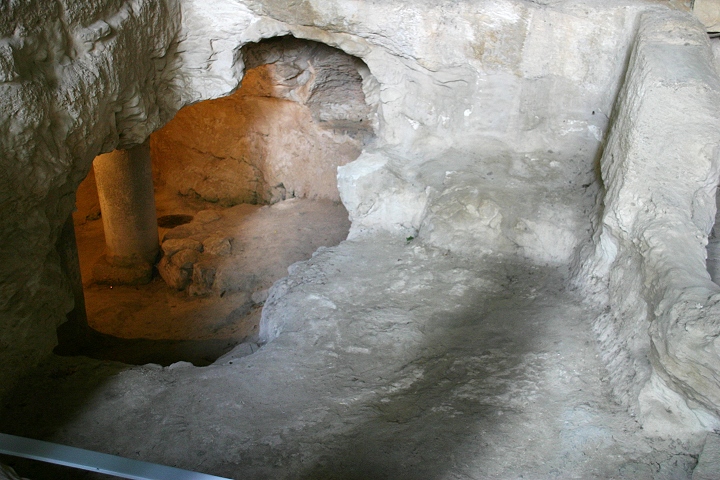 Closer view. Pillars are modern and were added for support.
Entrance to home was at the lower right.
The Eastern (Greek) Orthodox Church (St. Gabriel's) - Their alternate site for where Gabriel told Mary she would give birth to Jesus (the Annunciation). An apocryphal book, written circa 150 A.D., the Protoevangelium of James (sometimes called the Gospel of James), specifically states the Mary was drawing water when the angel came to speak with her. Built over Mary's Spring, one of the ancient water sources of Nazareth. History records a church being built at this site in the third century A.D., that was destroyed in the Muslim conquests of the seventh century. It was rebuilt again by the Crusaders in the 12th only to be destroyed again at their subsequent defeat in 1263 A.D. When it was rebuilt in 1767 it was rebuilt atop the ruins of the Crusader church, leaving the Crusader stonework around the spring intact.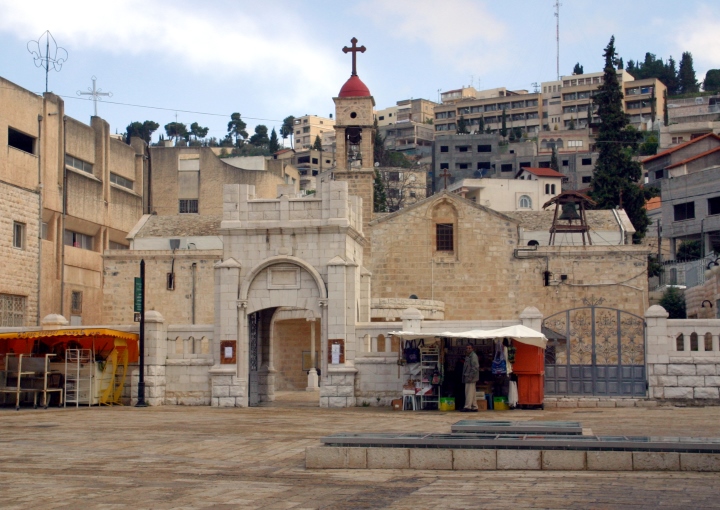 St. Gabriel's Church from outside the gate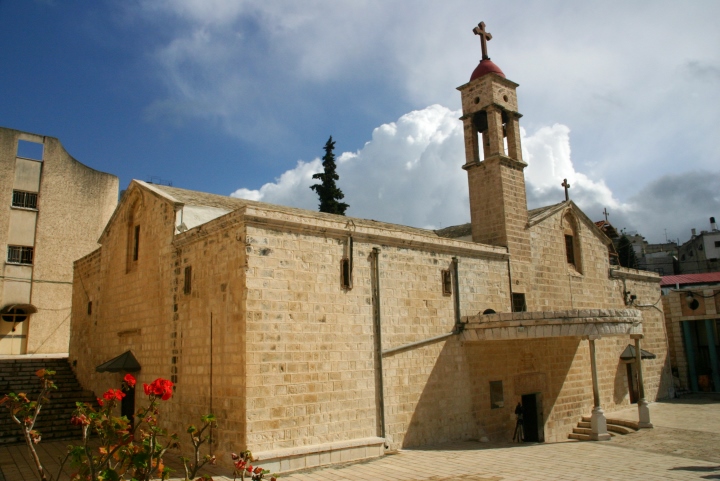 St. Gabriel's Church from inside the gate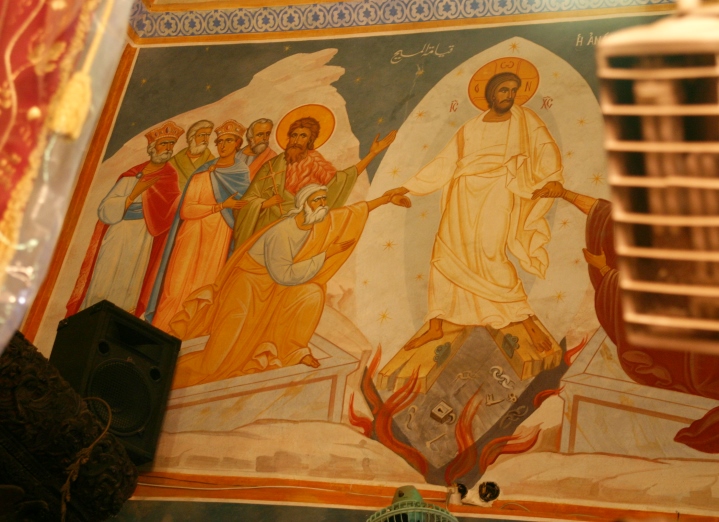 One of many ancient artwork in the church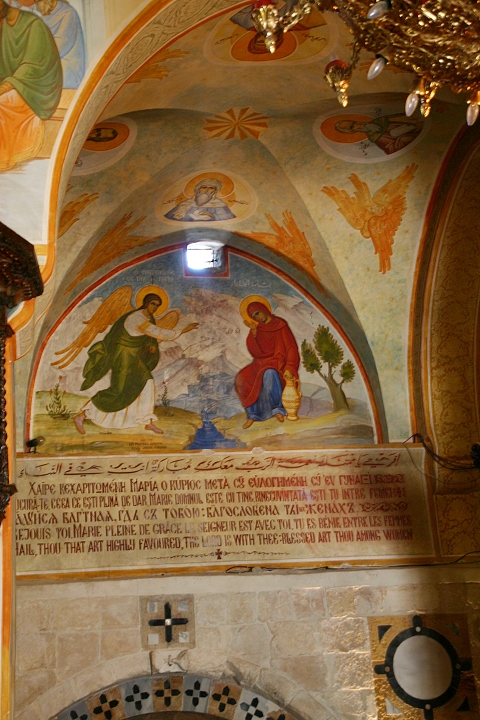 Painting of angel speaking with Mary at spring.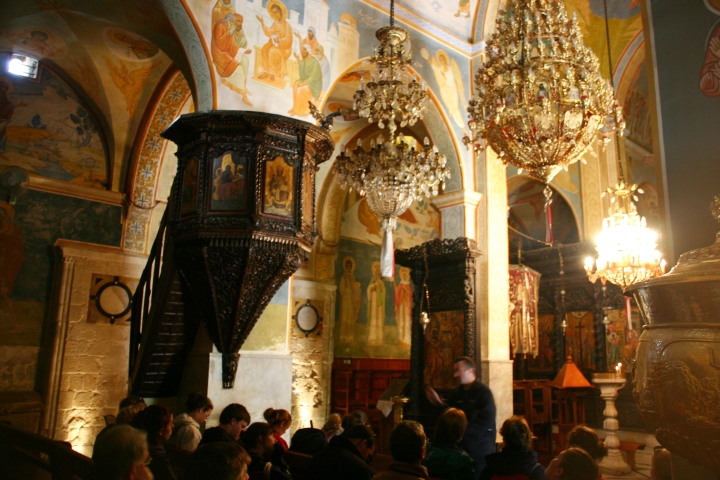 Main sanctuary in St. Gabriel's Church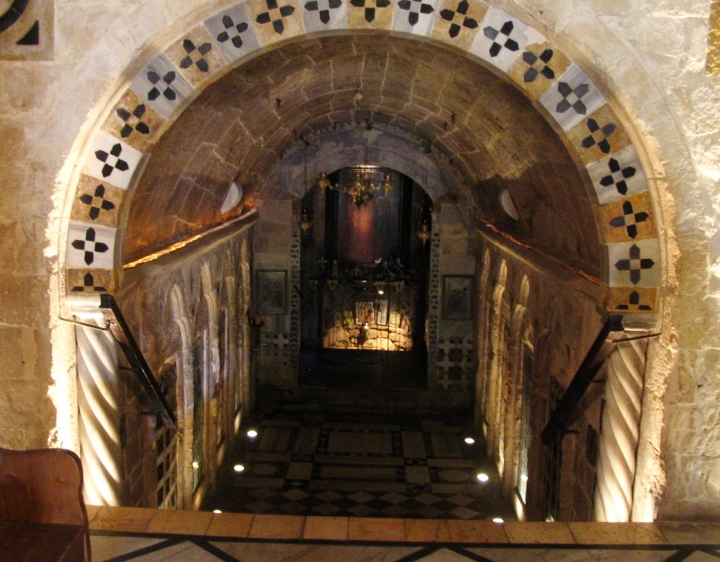 Passageway to Mary's spring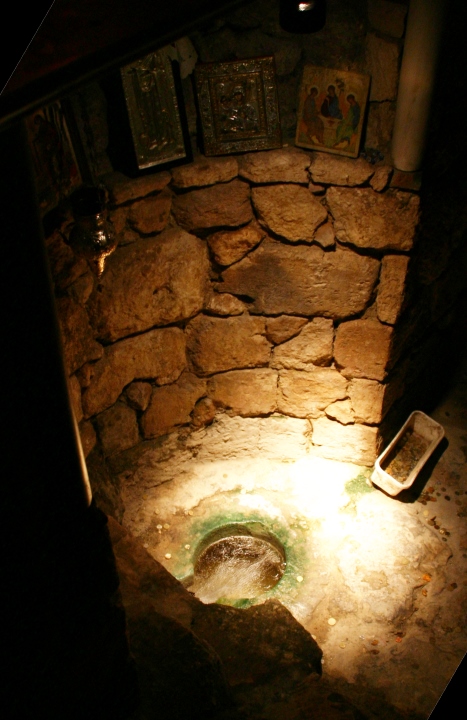 Looking down to the spring
A large volume of water flows from this spring towards Mary's Well outside the church
The Synagogue Church (next to, and owned by the Melkite Greek Catholic Church) - Traditional location of the synagogue where Jesus preached. Built by the Crusaders (circa 12th century A.D.), it is said to be built over the original Roman period Synagogue. Testifying to an earlier history, an Italian pilgrim in 570 A.D. described the synagogue and one of its benches. Click link on title for photos.
Mary's Well and adjacent Ancient Bath House - Fed by the spring at St. Gabriel's Church, this is where the residents of Nazareth drew their water for centuries. In recent times the structure here has been restored to match the form seen in early photographs and descriptions. Alongside Mary's Well, owners of a souvenir shop discovered (in the 1990s) that beneath it was a network of beautifully preserved ancient stone arches that once supported a large bath house. This bath house was fed by the same water supplying Mary's Well and included a furnace and imported white marble floor. This Roman era find may require reassessment of the common assertion that Nazareth was extremely small in Roman times.
---