Famous for being the birthplace of Jesus, Bethlehem of Judah is not to be confused with another Bethlehem in Galilee. The Galilean location, Bethlehem of Zebulun (currently Beit Lahm), is referenced in Joshua 91:15, and is located approximately 7 miles (11 km) northwest of Nazareth. The existence of more than one Bethlehem merely reflects the popularity of its name. This name, as with most Hebrew names, had a significant meaning; "house of bread".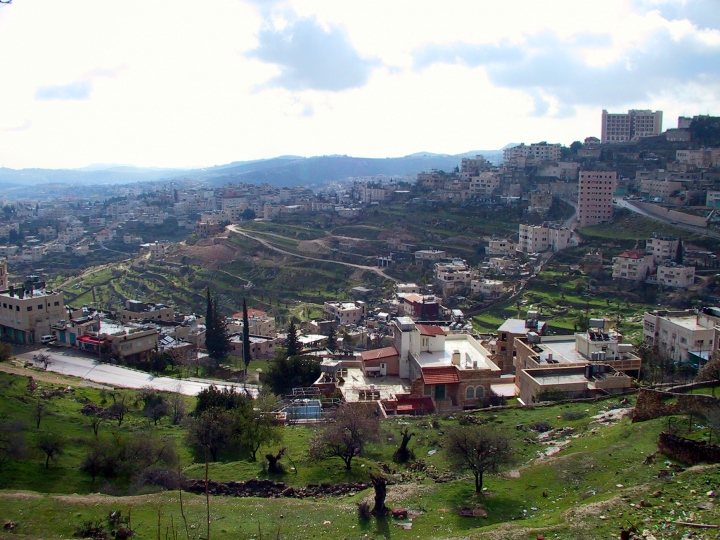 Some of the terraced hills and fields of modern Bethlehem
To prevent confusion, most of the Bible writers identify which Bethlehem they are speaking about, either by reference to other nearby locations, or by referring to the southern Bethlehem as "Bethlehem of Judea" or "Bethlehem Ephrath (alt. Ephrathah)" End Note 1. Bethlehem in Judea, the famous one, is located 5 miles (8 km) south of Jerusalem, near the ancient main road to Hebron (and even Egypt, if one was going further). This Bethlehem is also known in modern times as Beit Lahm, Arabic for "house of meat" or "house of flesh". Ancient Bethlehem was surrounded by fertile fields, groves and vineyards, benefiting from a moderate Mediterranean climate and being located at more than 2500 ft (760 meters) above sea level (slightly higher than the highest point of Jerusalem!). Average temperatures in the summer are in the low to mid 70s (20s C) and high 50s (15 C) in the winter. Unlike the dessert region on which it borders, Bethlehem's immediate surrounding had an ample rain fall, annually running almost 20 inches (50 cm). Certainly it was a place where food would have been plentiful - a "house of bread".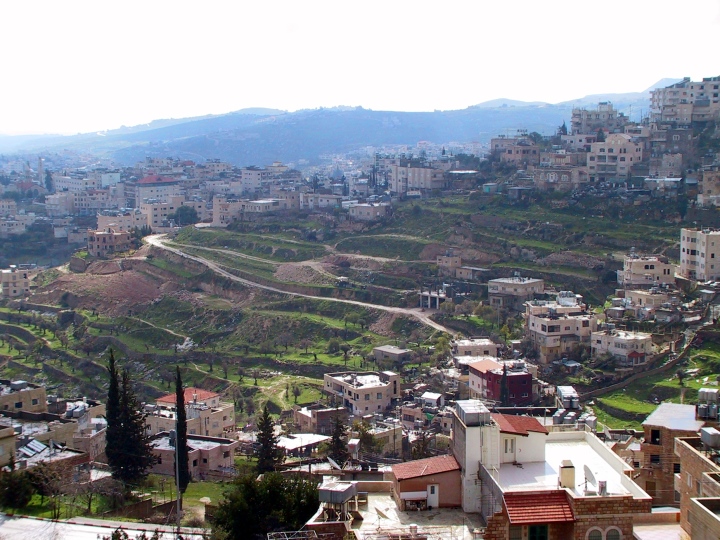 Closer view of Bethlehem hills (see previous image for wider view)
It's easy to know why a New Testament writer would designate the southern Bethlehem as being "of Judea", this was utilizing not only a designation referring to the ancient tribal territories, it also referred to the Roman region designated Judea. For many, the stranger reference was Ephrath (alt. Ephrathah, in both the "ph" pronounces as "f"). An early reference in the Law established the usage of this identifier.
Genesis 35:16-20 Then they moved on from Bethel. While they were still some distance from Ephrath, Rachel began to give birth and had great difficulty. 17 And as she was having great difficulty in childbirth, the midwife said to her, "Don't be afraid, for you have another son." 18 As she breathed her last - for she was dying - she named her son Ben-Oni. But his father named him Benjamin. 19 So Rachel died and was buried on the way to Ephrath (that is, Bethlehem). 20 Over her tomb Jacob set up a pillar, and to this day that pillar marks Rachel's tomb. (NIV)
The wording allows that Ephrath was either a region, in which Bethlehem was located, or was an alternate name for Bethlehem itself. Even a few hundred years after the time of Jesus, the creator of the Madaba map designated Ephrathah separately from Bethlehem, obviously believing that Bethlehem was in the territory of the former.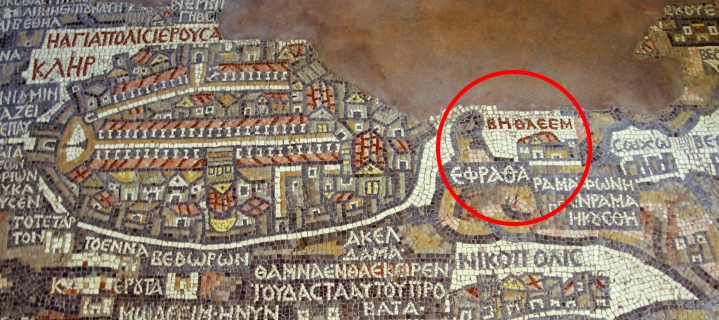 Bethlehem and Ephrathah on the Madaba Map
Additional Bible passages also reference Ephrath, again in a manner that it could be the same place as Bethlehem or having Bethlehem within its territory.
Genesis 48:7 As I [Jacob or Israel] was returning from Paddan, to my sorrow Rachel died in the land of Canaan while we were still on the way, a little distance from Ephrath. So I buried her there beside the road to Ephrath" (that is, Bethlehem). (NIV, square parenthesis ours for clarification, round parenthesis in the Bible text)

Ruth 1:2 The man's name was Elimelech, his wife's name Naomi, and the names of his two sons were Mahlon and Kilion. They were Ephrathites from Bethlehem, Judah. And they went to Moab and lived there. (NIV)

Ruth 4:11 Then the elders and all those at the gate said, "We are witnesses. May the Lord make the woman [Ruth] who is coming into your [Boaz] home like Rachel and Leah, who together built up the house of Israel. May you have standing in Ephrathah and be famous in Bethlehem. (NIV, square parenthesis ours for clarification) [For a few more infamous events regarding those of Bethlehem, during the time of the judges, read Judges chapters 17 and 19].

1 Samuel 17:12 Now David was the son of an Ephrathite named Jesse, who was from Bethlehem in Judah. Jesse had eight sons, and in Saul's time he was old and well advanced in years. (NIV)
We are told specifically in the genealogies of 1 Chronicles, who the father or founder of Bethlehem was:
1 Chronicles 2:51 Salma the father of Bethlehem... (NIV)
As seen in a previously considered passage (1 Samuel 17:12); David, who would become God's anointed king over Israel, was the most famous citizen of Bethlehem and he was called an Ephrathite. David was a direct descendant of Ruth and Boaz, also residents of Bethlehem, as confirmed by Mathew (1:5-6). When Samuel was commissioned by God to appoint David as successor to Saul, he went to Bethlehem.
1 Samuel 16:1-5 The Lord said to Samuel, "How long will you mourn for Saul, since I have rejected him as king over Israel? Fill your horn with oil and be on your way; I am sending you to Jesse of Bethlehem. I have chosen one of his sons to be king." 2 But Samuel said, "How can I go? Saul will hear about it and kill me." The Lord said, "Take a heifer with you and say, 'I have come to sacrifice to the Lord.' 3 Invite Jesse to the sacrifice, and I will show you what to do. You are to anoint for me the one I indicate." 4 Samuel did what the Lord said. When he arrived at Bethlehem, the elders of the town trembled when they met him. They asked, "Do you come in peace?" 5 Samuel replied, "Yes, in peace; I have come to sacrifice to the Lord. Consecrate yourselves and come to the sacrifice with me." Then he consecrated Jesse and his sons and invited them to the sacrifice. (NIV)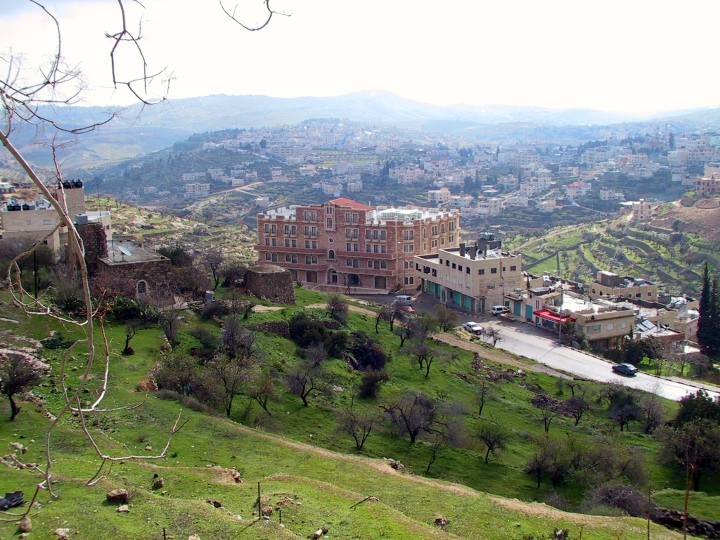 Looking down from Bethlehem
It was at or near Bethlehem that David had tended sheep for his father (1 Samuel 16:11). In David's time, certainly prior to his formally becoming king, the Philistines who regularly plagued the land occupied a location at Bethlehem.
2 Samuel 23:14-17 At that time David was in the stronghold, and the Philistine garrison was at Bethlehem. 15 David longed for water and said, "Oh, that someone would get me a drink of water from the well near the gate of Bethlehem!" 16 So the three mighty men broke through the Philistine lines, drew water from the well near the gate of Bethlehem and carried it back to David. But he refused to drink it; instead, he poured it out before the Lord. 17 "Far be it from me, O Lord, to do this!" he said. "Is it not the blood of men who went at the risk of their lives?" And David would not drink it. (NIV) [Also 1 Chronicles 11:16-19]
David's grandson, who lost the northern part of the kingdom, considered Bethlehem an important city and fortified it for defense.
2 Chronicles 11:5-11 Rehoboam lived in Jerusalem and built up towns for defense in Judah: 6 Bethlehem, Etam, Tekoa, 7 Beth Zur, Soco, Adullam, 8 Gath, Mareshah, Ziph, 9 Adoraim, Lachish, Azekah, 10 Zorah, Aijalon and Hebron. These were fortified cities in Judah and Benjamin. (NIV)
The Babylonian exile (circa 586 B.C.) and subsequent return (circa 537 B.C.) saw Bethlehem reduced to a small town quite sparsely populated.
Ezra 2:21 the men of Bethlehem, 123 (NIV)

Nehemiah 7:26 the men of Bethlehem and Netophah, 188 (NIV)
The minor prophet Micah, writing before the exile (circa 740-690 B.C.), already described Bethlehem Ephrathah as being small, showing that it likely declined in stature during the divided kingdom.
Micah 5:2 "But you, Bethlehem Ephrathah, though you are small among the clans of Judah, out of you will come for me one who will be ruler over Israel, whose origins are from of old, from ancient times." (NIV)
It is notable that the prophet Micah would single out a relatively insignificant town and specifically assure it of future fame. Matthew made it clear that the Messianic prophecy of Micah was well known by the chief priests and teachers of the law:
Matthew 2:1-8 After Jesus was born in Bethlehem in Judea, during the time of King Herod, Magi from the east came to Jerusalem 2 and asked, "Where is the one who has been born king of the Jews? We saw his star in the east and have come to worship him." 3 When King Herod heard this he was disturbed, and all Jerusalem with him. 4 When he had called together all the people's chief priests and teachers of the law, he asked them where the Christ was to be born. 5 "In Bethlehem in Judea," they replied, "for this is what the prophet has written: 6 "'But you, Bethlehem, in the land of Judah, are by no means least among the rulers of Judah; for out of you will come a ruler who will be the shepherd of my people Israel.'" 7 Then Herod called the Magi secretly and found out from them the exact time the star had appeared. 8 He sent them to Bethlehem and said, "Go and make a careful search for the child. As soon as you find him, report to me, so that I too may go and worship him." (NIV)